Brief Excerpts from the Beeson Diary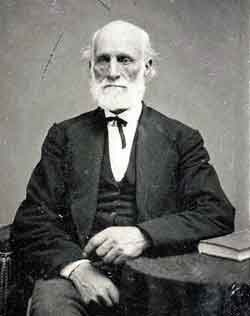 On the Underground Railroad…
11 May 1852 (in Illinois) About three I saw a black covered wagon coming to our house and I did not know who it was. They staid a little while and then went away. After they was gone Father came to me in the field and told me that it was two young men from below Grand Ville. They had brought a runaway Negro on his road to Canada. His name is William Casey. Father wants me to take him to Ottawa tomorrow.
12 May 1852 William staid all night with us. I took him to Ottawa today to Mr. George Crows. He is from Missouri about a year. He has been living in Galesburg, Illinois for about six months but some body tried to catch him so he has started to Canada. Great laws are the laws of America that one part of the people should enslave the rest.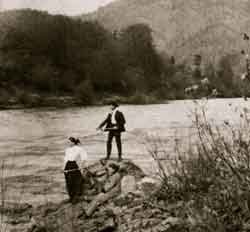 On Fishing…
24 Nov 1853 I was crossing the creek and saw a very large fish. I waded in and caught it but it was so large that it pushed me down and left me setting in the creek. In the evening I took my rifle and shot two nice sized salmon fish. One was two feet long.
On Stage Coaches…
10 July 1854 The Stage coaches passed Mr. Wagoner's yesterday. They are the first that ever run in this valley. They are going to run between Yreka and Jacksonville. Ultimately to Crescent City as soon as a road is opened…Two new ones and an old second hand one. Four horses to each wagon. They intend to have a change of horses every 10 miles.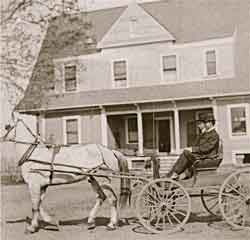 On Comets…
19 Sep 1858 This morning at four o'clock Mother was up and saw a comet. We all got up and saw it plain about three points East of North, a few feet above the horizon. I have not seen an account of it in the papers or Almanacs.
On Oregon Statehood…
4 May 1859 Oregon was admitted into the Union on the 14th of Feb 1859. She increases the number of the United Sisterhood to thirty-three. May the bonds of Fraternity never be sundered by any willful act of hers. Although I voted against the admission of Oregon yet now that we have accepted, I will be satisfied, as long as slavery is not allowed to enter inside the boundaries of delightful Oregon.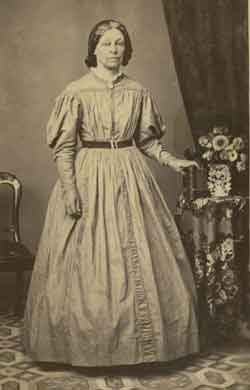 On Fashion…
28 June 1862 Mother sent to Jackson for a shaker bonnet by Sam Robison but he says there is not one in Jacksonville large enough. They are all the rage now the women are all crazy about them and yet they are the ugliest thing a woman ever put on her head, but such is fashion. Last 4th of July Mrs. Judge Tolman was the only woman that had a Shaker bonnet at the Celebration of the 4th of July and this year there will hardly be a woman but what will have one. I am down on Shaker bonnets for life they are so ugly, better suited to pick up chips in…
On Religion…
17 Oct 1864 Mr. Shuck preaches again to night…We had a huge time. The preacher had the hat passed around for a collection and got several dollars. He is an awful preacher. Mr. Coolidge gave him some and said he thought it would be good riddance when he left.
On Death…
9 April 1865 Frank Myers came to tell that Marion died at four o'clock.…At two o'clock all hands started with the corps over to Mt. Vernon we buried Marion Anderson by the side of his wife that we buried so short a time ago. They have left seven children orphans, but Uncle Joe says he will be father to them as long as he lives. I hope they may always find good friends. I think Anderson was killed by mistreatment, by to much medicine and want of proper care…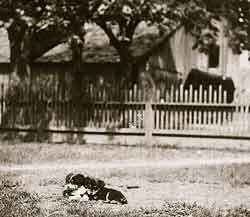 On Puppy Love…
10 July 1865 I feel very uneasy since I came home some way. I don't know what is the matter unless it is that I am like everybody else are at some time of their life, love sick after some pretty girl that I can never see again. The course of time love never did run smooth.…
On his Diary…
4 July 1866 Dear Diary Book, to you I turn, to pass away the lonesome hours, and to chronicle the passing events, but I shall keep you in my trunk, where no eye shall behold you to pry into the inmost secrets of my nature. Not having any person to talk to, it seems pleasant to be able to write a few of my lonesome thoughts upon these pages.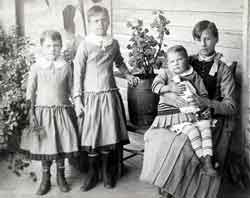 On Childbirth…
18 Sep 1867 I came home at noon and found Dear Kate complains of sickness & pains, after dinner she laid down, and I made up some bread, about 10 o'clock Katie became convinced it was labor pains and she laid down and I set by her and aided her as much as possible until about four o'clock old Mrs. Morrison came in as she was passing home from old Johnny's and she was so surprised to think that I had not gone to call in some help… at ten minutes past five o'clock Kate was delivered of a fine boy weighing ten lbs. I cut the navel cord with my razor… Katie did not suffer at all in comparison to the most of women at such times…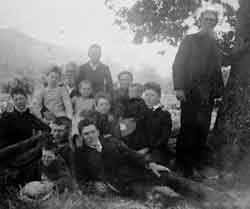 On Naming Children…
25 Sep 1867 We are thinking of naming the little fellow, Emmet, if we do not think of a prettier name. Naming a child is of great importance, that we do not give it a name that will make it embarrassed when it is grown up. But Robert Emmet was a worthy Irish Patriot and Kate has a brother Emmet.
On the Indians…
13 May 1873 The Modocs have again come off victorious, having captured three provision wagons. I am actually ashamed that I am an American Citizen, [to] have such a farce, such a disgraceful arrangement carried on, out at the Tule Lake. General Sherman is forwarding some thousand more soldiers to join the hundreds that are already out there, to fight only forty-three warriors, all told. It is claimed that twenty Indian warriors have been killed, so that leaves only twenty- three, without resources or any means of obtaining ammunition or provisions. But, such is the human mind. I wonder for what we were created.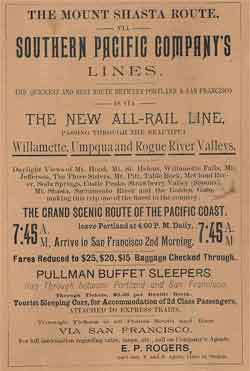 On the Railroad…
27 Jun 1881 J.S. Howard and Co. are surveying the road for a railroad. They run the line across the creek through Rapp's garden passed Brittain house and across our NE corner. Mr. Howard thinks the road will be built before 15 months passes. It will revolutionize this little valley. Wake up the sleepy Oregonians to be enterprising folks.
On Watermelon Syrup…
27 Oct 1889 Winnie, Fannie and I went to visit at Frank Spicer's. He is boiling watermelon juice into syrup. It makes a good syrup.
On Airplanes…
2 Jan 1891 There is a prospect of a company navigating the air at Mt. Carmel, IL soon. They think they have discovered a method of guiding an air ship through the air. I have always thought it would be done.